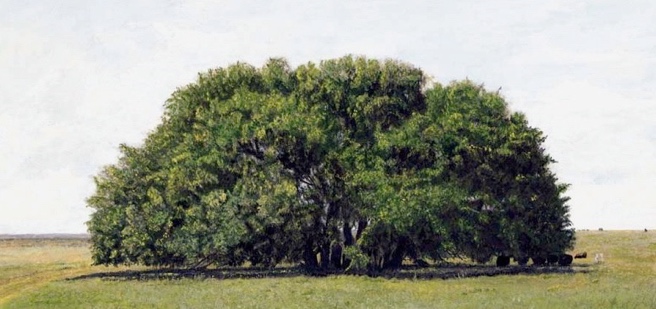 In The Live Oaks
After twenty years of watching from the road
or standing at the gate,
today I crossed the fence
and walked among the live oaks,
aging guardians of the open plain.
I know the rancher. He doesn't care.
He knows I come to visit
and there is trust.
Walking around them,
I touched them and counted aloud,
"…eighteen, nineteen, twenty."
For so long, I thought them ten or twelve.
I laugh at what I thought I knew.
And they are older than I thought by far,
showing the passing seasons in crack and crash,
in twist and gash and cow-rubbed bark
that has laid bare the outer trunks.
Hoof prints and manure tell of shelter and shade,
of sanctuary, of hollowed ground
where calves have slept unafraid
beneath the strong and spreading arms.
Yet, in what seems a placid place,
violence,
nature's balancer has left its calling card
in bits of fur and feather and bone,
strewn about the cadmium green of soft winter grass.